Garage Bike Wall Mount Hook Hanger Rack
Looking for the perfect bike wall mount that'll hold your bike carefully without taking up too much space? Our exclusive garage bicycle wall mount was designed to hold up to 220 lbs in a small area right on the wall.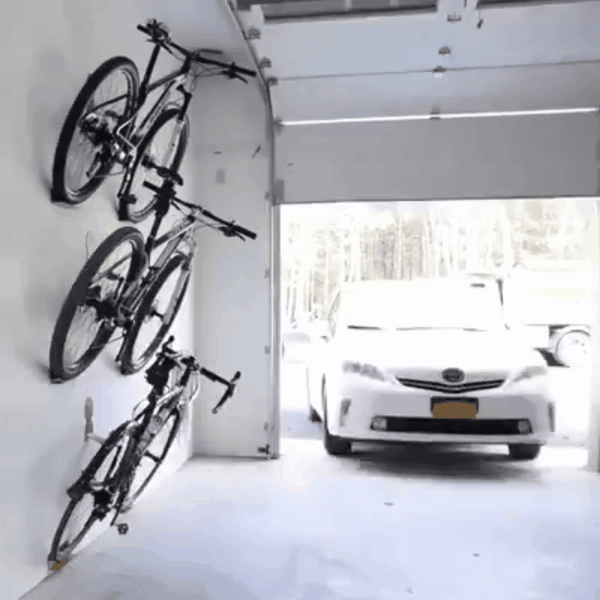 Equipped with sturdy carbon steel hooks, this bike wall rack simply latches onto any type of surface on the wall and gets screwed in place to ensure stability. The bike hanger for the garage has 360 degrees rotating hook which makes it fully suitable for all types of bikes.
The best part of all, installing the wall-mounted garage bike rack is an extremely easy task. Simply screw this bike wall hanger onto the designated location and hang the bike from top to bottom. Once the garage bike wall mount is fixed, ensure that the bike is fully lifted off of the ground.
FEATURES 
SPACE SAVING

 

-

 

Forget cramming your bike into small spaces. This bicycle hanger fully lifts the bike up from the floor, making it convenient to store more things in the same area. Safe and reliable.

EASY TO INSTALL

 

- Installing the bike rack hanger is as simple as screwing it onto the wall. Ensure that the area is fully cleaned before screwing our bicycle wall, and mount hanger-on.

DURABLE

 

- Simply put, the hanging bike rack wall mount was built to last. As long as the wall itself is strong, our bicycle wall mount can hold a bike weight of up to 220 lbs. No type of maintenance is required to ensure the long-term stability of our bike garage bike mount storage.
PRODUCT SPECIFICATIONS


Material: High Carbon Steel

Color: Black

Max load: 220lbs with walls strong enough

Length: Approx. 140mm / 5.5in

Weight: Approx. 900g / 1.98lb

Package size: 175 * 85 * 75mm / 6.9 * 3.3 * 3.0in

Package weight: 1000g / 2.20lb
PACKAGE CONTENTS
1 x Pedal Support

2 x Tire Support

1 x One Set of Expansion Screws