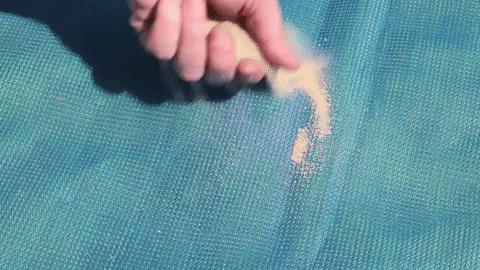 Beach days are full of fun in the sun. But there's the annoying sand, blowing around or being kicked up by bratty kids. But now, there's a solution to the sand problem!
The Outdoor Sand Free Beach Mat will be a magical new addition to your beach day kit! This large waterproof mat allows sand to be magically brushed off, meaning it won't stick to you or get in all those uncomfortable places. Stake out your 'beach realty' in style and comfortably enjoy the day, while others struggle with sand and mess. Ideal for the beach, this mat can be used in a variety of settings. There are no worries if food and drink are spilled on it either, because it's easy to wash and dries super fast. The superior polyester material is tough, lightweight and easily folded.
Features:
Waterproof & Debris Proof:

 

Water and debris (including sand) literally disappears from the surface of this blanket. This means it doesn't end up on you.
Superior Quality Materials:

 

Made from tough polyester and dual layered. Water and debris pass through the layers quickly. No worrying about rips and tears.
Versatile:

 

Excellent for days lying on the beach, this mat is great for any outdoor event. Take it to picnics, sporting events, concerts, camping… wherever!
Benefits:
Great For Kids:

 

Kids can be messy with various foods and beverages, but spills won't stain or damage this mat. It's super easy to wash and dries fast too!
4 Anchoring Loops:

 

The 4 corners of this mat have sturdy metal loops allowing you to safely anchor your mat down. Great for windy days!
Comes In Variety Of Colors:

 

If you have a color preference or like to stick within a particular theme, we have a variety of different colored blankets available.
Specifications:
Measurements: 79 in x 79 in
4 Anchoring Loops
Double Layered Polyester Mesh Construction
Weight: 250-500g