The Baby Float with sunshade cover is back and better than ever for 2021, this latest and greatest waterproof infant swimming training device features improved safety harnesses, better anti-flip properties, and refinement to the overall design, along with new colors. 
This world-renowned 
anti-puncture
 swim float for babies and toddlers now comes with a 
UPF50+ UV proof canopy
 to 
protect
 your 
baby's sensitive skin
 from harsh sun rays while they're blissfully floating about. 
It has a patented design specially designed for infant swimming training for safety and comfort, and also meets the European/Australia/New Zealand/US/UK safety standards.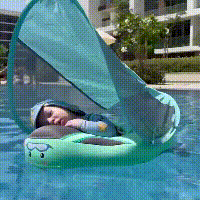 This baby trainer pool float has widened sides for maximum buoyancy and the front of the float is heightened to avoid tipping over. No risk of accidental tipping in any direction. You can also place your baby backward for a lying position.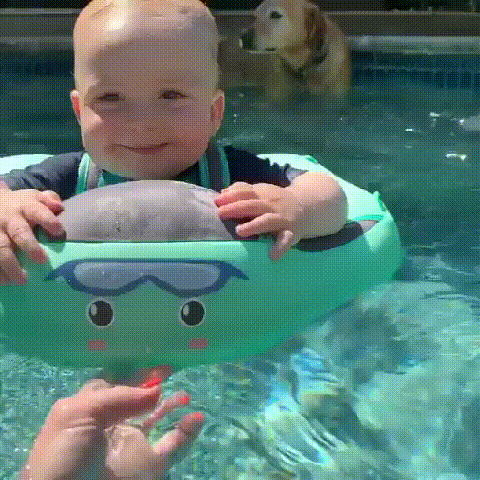 Attachable canopy with SunSmart UV Protection 50+ & Anti-Flip Tail - Allows your baby to swim without damaging their skin by the harmful UV rays.


It utilizes our patented PearlFoam technology combined with a tough exterior cover which ensures it will last for years to come! It can even withstand the weight of a car with no deformations or damage at all. That means no more leaks, punctures or blowing!
Product Description:
Suitable for babies up from 3 months - 2 years old (6-18kg/12-40lb)
European EN13138 & AUS/NZ 1900:2014 WATER SAFETY CERTIFIED 
Authorised Seller | Authentic Original Brand
Fully Adjustable 5 Point Safety Harness with button lock catch

 

- Prevents the baby from slipping, fully adjustable for all baby sizes with a dual protection clasp for maximum safety.
Designed For Maximum Comfort & Usability -  The thick padded chest & crotch straps ensure the baby doesn't slip when they are paddling and let the baby swim comfortably for hours at a time
No more accidental leakages from old inferior air inflatables. Our material is for the next generation of water buoyancy swim assist aids with waterproof high-quality skin. Perfect material for buoyancy. 
Baby Skin-Friendly Materials - The float is covered by a 

soft, skin-friendly, water-resistant TPU fabric. 



Ergonomically designed for maximum comfort.

 

Allows your baby to learn to swim on their belly in a 45-degree neutral position instead of an unnatural vertical position.
This baby swim trainer is lightweight and very portable.

 

You can take this to the beach and pool. Also, it a great to use in a bathtub to get your baby comfortable and confident in the water. A great alternative to swimming
FAQ
How do I secure the float to my baby?
Unlock the baby infant swim float buckles.
Place the baby in middle face forward and down.
Wrap and close the side wings on baby float around their back.
Adjust the strap tightness around the waist of baby in float.
Adjust the bottom crotch straps for tightness to fit child securely.
Let your infant or toddler begin to swim in their new safety swimming float!
Is it safer than traditional float rings?
Absolutely. It uses an innovative 5 point secure buckle system combined with a double-lock design under the crotch area to properly secure the baby as well as keeping them upright to prevent tip-over/flipping. There is simply no other baby float in the world as safe as ours, as complies with world-class safety standards (AU, US, CA, UK/EU).

Of course, it's secured with velcro straps and quickly folds away for easy storage. It's easily usable with and without the canopy for indoor and outdoor use!

PRODUCT DETAILS:
Material: Soft, skin-friendly, water-resistant TPU fabric
Size: 46.5cm x 48.5cm x 15cm
Package Includes: 1 Authentic Float, 1 UV-Proof Canopy & 1 Shark-Fin Tail (if selected)
Suitable for babies up from 3 months - 2 years old (6-18kg/12-40lb)
How do I wash and maintain it? Is it easy to dry?
Hand wash with mild detergent, Do not scrub or brush;

Hang it in a cool and ventilated place after use in order to avoid mildew. 

Yes it dries very easily.
What is the minimum and maximum age/weight to use this product?
Suitable for babies up from 3 months - 2 years old (6-18kg/12-40lb)
Disclaimer: 
**Although our Baby Swim Ring Float is safe, please never leave your baby unattended In the pool** 

Will Not protect against drowning, Use only under constant supervision of adults;

Keep away from fire and high temperature, sharp objects to avoid any damage.