The unique design of the original H&H - Marine multi-purpose dock hook helps your rope go straight through any place, you can tight the boat rope within a long distance, and pulling the boat over the shore and tie it up. Mooring boats easily!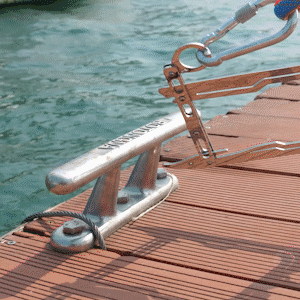 A MUST-HAVE MULTIPURPOSE IMPLEMENT
The Dock Hook grabbing the rope and make it through the dock then pulling a floating boat over to a dock with a straight pull; BTW, Using it for hanging Christmas lights on your front or back yard olive tree is also a option.
Stainless Steel=Rust-Resistant. The premium quality is designed to meet all your needs for the boating season. (Rust-Resistant updated February 2021)
15 OZ-FREE OF A LIGHT BURDEN
It's like holding a 400ml bottle of water,

 

no pressure! Using it do what you want to do at ease!
THE ULTIMATE EXTENSION POLE ON THE MARKET TODAY
Keep the pole long 150cm(40 to 150cm) but still, just weighs 200g! Non-Slip soft rubber hand grips for comfort and reliable grip in wet conditions.

 

1.3 to 5ft Pole is made of Stainless Steel for durability.
EASY TO OPERATE & STORAGE
Smooth extension, easily locks and unlock, 2/3 section telescopic design for easy carrying and storage, fit into a small-ish storage locker space on the floor deck of your boat.
SPECIFICATIONS:
MATERIAL

Stainless Steel+Soft Rubber

PRODUCT WEIGHT

PRODUCT SIZE

 Multi-Purpose Dock Hook +Rod: 42.5×22.5×3.5cm
Rod extension 40 to 150cm/1.3 to 5ft
Multi-Purpose Dock Hook +Adapter: 30cmx19.5cmx4.5cm
Adapter can use rods within 30mm in diameter

PACKAGE CONTENTS

1 × Multi-Purpose Dock Hook